Underworld have a rightful claim to being labelled one of the best live dance acts of all time.
They have achieved this unofficial accolade over the course of years and years by doing what most dance "bands" do not do: playing live.
The electronic dance music (EDM, as we're now supposed to call it) scene is dominated by bedroom DJs and "producers", yet very few will actually get up on stage – beyond doing DJ sets at clubs that might feature a performance from someone doing the vocal from a song – and crank out their repertoire of tracks.
There are obvious exceptions, such as Leftfield, The Chemical Brothers and the constantly retiring/coming back Orbital, at the high-profile end of the scene.
What makes Underworld such a popular band and why they can draw thousands of people to a cold and wet Alexandra Palace in North London in March is that they have a winning formula.
Perhaps they are the Rolling Stones of dance music (or like that other important band in my world, Depeche Mode), in that they have a back catalogue of songs that they know can satisfy old and younger fans of their genre.
And, therefore, they rarely tinker with a setlist that has been blasted out consistently – with a few tweaks here and there for bits of new material – for years.
It works. Karl Hyde and Rick Smith know what they're doing.
They essentially played the same setlist as that of almost a year to the day on from a barnstorming night at the Roundhouse in London.
Still, for those who fondly remember Underworld's arrival on the scene in 1994 with the widely-acclaimed debut album Dubnobasswithmyheadman, Ally Pally started with a gem of a track that was sadly missing from 12 months before – the bizarre Mmm…Skyscraper I Love You.
But it was business-as-usual thereafter, with Juanita, I Exhale and If Rah managing to slowly warm up those swarming around the cavernous venue.
Dark & Long (Dark Train) has been a favourite for many years – a rather understated track behind the scenes that somehow manages to bring the house down every time with its booming chords.
From then on, Ally Pally was bawling mass of arms and lights (Underworld have always paid a lot of attention to the visual elements of their gigs), perhaps only brought down to earth for a breather with the slower, bass-heavy but terrific Ring Road half way through the set.
So here is the (mildly) controversial bit of the review – I rarely listen to Underworld's recorded output. I find it a bit flat, even on decent headphones.
Every one of the tracks played at Ally Pally has been released in some form over the years, yet it is the live versions, mixed with the atmosphere of a large crowd on a mission to have a good time, which linger in the mind.
Perhaps it is that heady combination of live performance, visual overload and ambience that has created elevated Underworld to being more than just an EDM band that bashes out a few tunes.
Average recorded tracks (Jumbo, Cups) become semi-euphoric or celebratory in a live environment, for example.
The classics of Rez and Cowgirl are not popular (they always come towards the end of a set) because they sound great on record, but because they are anthemic and loud on-stage.
And what is most remarkable (and pleasing) about Underworld, 20-odd years on from their creation, is that they have managed to reclaim the classic Born Slippy sing-a-long.
For a period in the mid to late-1990s, Born Slippy became a football chant-style excuse for sweaty (and often very drunk) blokes to extoll the virtues of their alcohol consumption.
But now the track (which has recently been brilliantly reworked into a grinding, slower version for the soundtrack of T2 Trainspotting) is a call-to-arms for those who remember and want to celebrate the 1990s as a joyous period for dance music… and for those that wish they were there.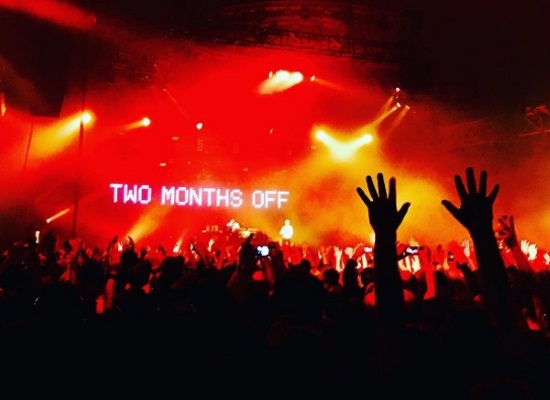 Footnote:
Some might say playing Ally Pally was ambitious – a 10,000-odd capacity venue to fill, just a year after playing a couple of nights in London.
From a gig perspective, as the review indicates, Underworld did not disappoint the legions of fans who made it up the hill overlooking North London.
They pulled it off again. They have no problems drawing a huge crowd.
But whether the event was sold out or not (it felt very busy), Ally Pally has some serious issues around how it handles the flow of people and how it ensures those people can buy the stuff that, ironically, allows the venue to make even more money from the gig.
Two fairly wide doors onto one side of the main arena is not enough (if there were more, it was not obvious – another problem right there) – not because of any particular safety issues, but it meant hundreds of people had to spend a long time navigating from one, densely packed side of the arena to the other, in order to find some room.
And, queuing for 45 mins to buy drinks is not a decent use of anyone's time, let's face it.
The frustration that many (well, everyone) had with the bars was compounded by learning once they got to the front that they were, in the case of draught beers, just "ordering" their drinks and would then have to wait another 10 minutes or so to collect.
It was a bizarre and frustrating experience. Come on, Ally Pally, you can do a lot better than this.